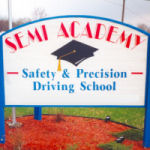 About Semi Academy Driver Education...
Semi Academy Driver Education offers Segment 1 and Segment 2 training courses. All classes require pre-registration. We have skilled instructors that have been certified by the Michigan Department of State. We offer student and adult training programs with a wide variety of times available for your convenience right here in Lawton, Michigan.
About Semi Academy CDL...
Semi Academy has been open since 1996 for Commercial Driver License training for an A, B and C. Our CDL training includes, classroom, range and road time right here at our Lawton site. We offer a variety of courses depending on your experience and skill level. We also have highly skilled instructors with extensive backgrounds in the trucking industry.
About Academy Testing...
Academy Testing is a Third Party Testing site that is approved by the Michigan Department of State. We are currently testing by appointment only. Academy Testing also offers the availabilty for a bilingual tester (Spanish). As a Third Party Testing facility we are able to test Cars, Buses, Trucks and Motorcyles.